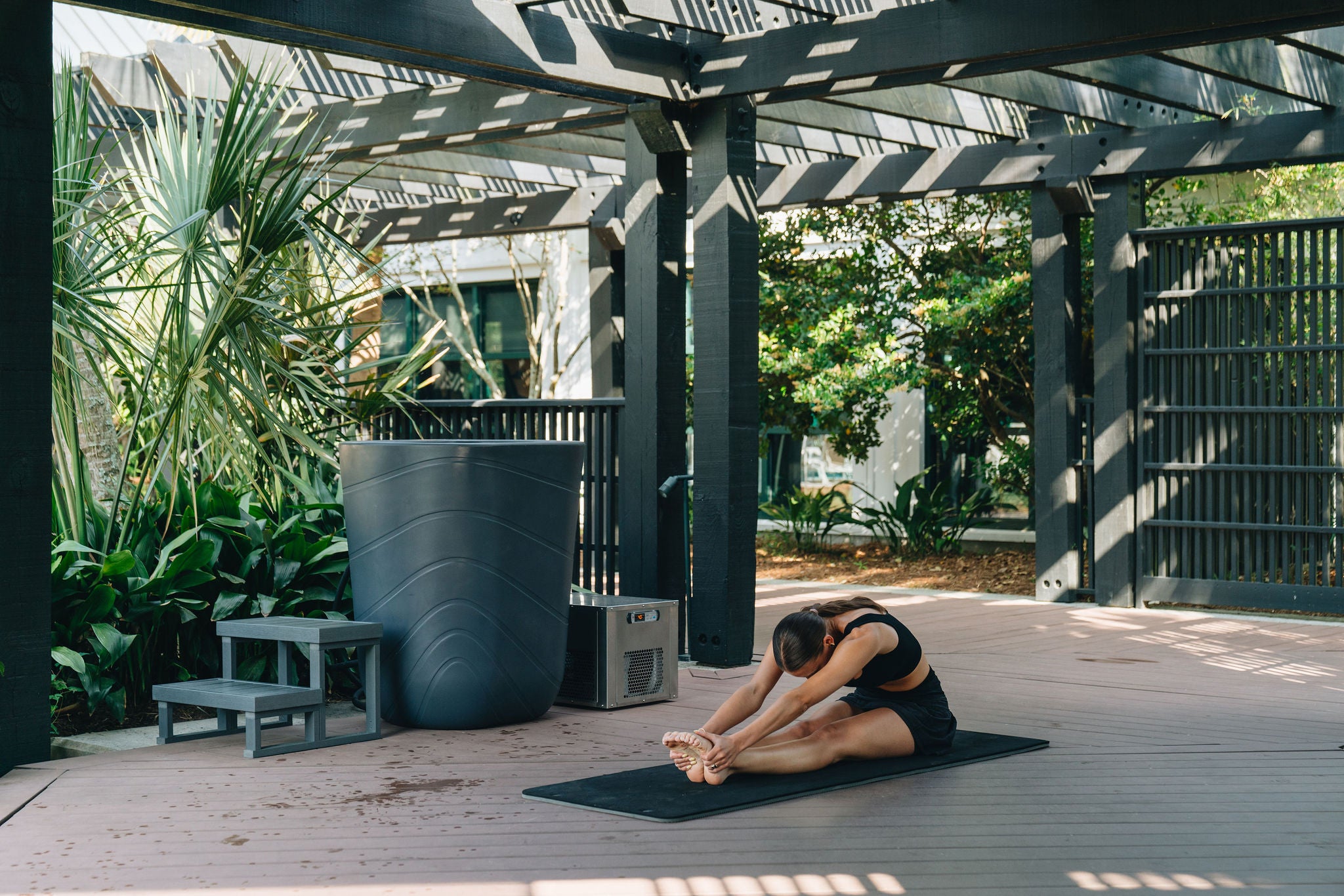 Let customers speak for us
Viking Features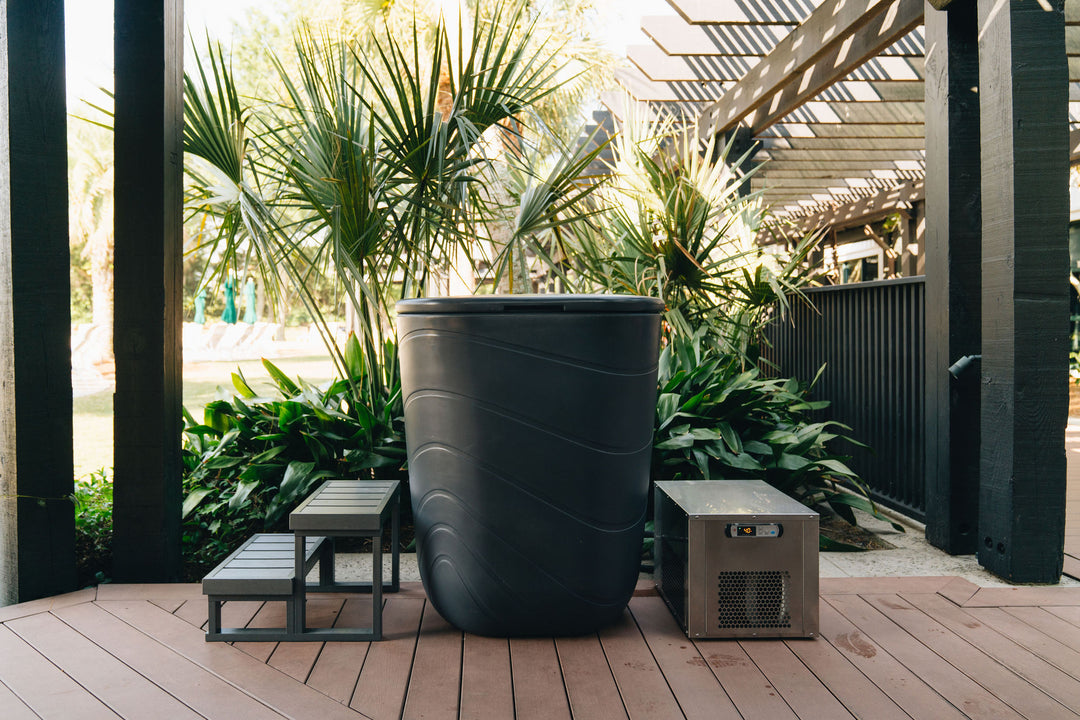 Vertical Plunge
The Viking strikes the perfect balance between space optimization and your well-being, making it the ultimate choice for those who value both their space and their health.
Powerful Chilling
We take hygiene seriously, which is why our water undergoes a rigorous multi-stage process that includes cutting-edge ozone therapy and advanced filtration.
Aesthetic Design
Combining form and function, the Viking Cold Plunge boasts streamlined aesthetics that elevate the visual appeal of any space.
Yes, you can! When the temperature reaches below freezing, we recommend unplugging or turning the chiller off to protect the chiller from any elements. The insulated walls will prevent the water from completely freezing, but your water will not have the regular chiller functionalities (ozone therapy, filtration, chilling).
Yes, there is plenty of room to accommodate most heights.
The inside of The Viking has no steps or seat. The buoyancy of the water allows you to sit in comfortable squatted position without putting any pressure on your joints. Your body will naturally find this position.
Yes, the chiller can be plugged into a standard wall outlet (120V).
Depending on your local cost per KWh and usage, estimated monthly costs should be between $15-$25. Most heat is gained through sun exposure and ambient temperatures but our 2" foam insulated walls significantly reduce your electricity bill.
In the right conditions, the Viking can drop into the high 30's in just under 4 hours.
It is recommended replacing them once a month
Since our Viking and chiller are both made here in the USA, we are proud to offer a 5 year warranty on the Viking and a 2 year warranty on the chiller system.
Current lead times are 6 Weeks.
No, the Viking tub and its accessories are not available for individual purchase.
Yes! You can purchase through Shop Pay in full or in four installments.
This cold plunge pool rocks!
I rarely write reviews but the Nordic Wave definitely deserves one. I bought it to help me recover from playing tennis often in very hot conditions. I don't know the science of "why" but not only has it helped me bounce back faster and not feel as beaten up, but it has also boosted my mood, helped me sleep better, and weirdly helped with hot flashes. I live in a very hot climate and if I do the cold plunge pool in the morning, I regulate my temperature better the rest of the day. In addition to all of the above, the actual "pool" has a low profile and it looks more like a piece of furniture and not an unsightly device in my backyard. Furthermore, when I have had questions, the response from customer service has been immediate. I highly recommend this product!!
Wow, thank you so much for taking the time to share your experience with the Nordic Wave! We're so glad to hear how it's been a game-changer for you, helping you recover faster after tennis, improving your mood, sleep, and more. Cheers to more refreshing moments with the Nordic Wave! ❄️
Transformational
There are few things in life that are truly transformational, and the Viking is one of them. I've had the Viking for about 6 weeks now and have used it every single day. I feel like it is a cheat code for life. My mood is improved, tons of energy, lower anxiety - absolutely incredible. It is also aesthetically beautiful and very comfortable and spacious. I've used several other types of cold plunges and The Viking is by far the best (I much prefer crouching over laying!). On top of it all, the customer service is phenomenal. I can't recommend this highly enough.
Wow, your Viking experience is truly game-changing! It's awesome to hear how it's amped up your energy, boosted your mood, and turned anxiety down a notch. And hey, kudos to you for the daily dedication – you're rocking it! Thanks for shouting out our customer service too – we're here to keep that excitement going. ❄️
The Viking - What a Beautiful Daily Journey!
I've used every ice bath in the industry. THE VIKING is Legend - sleekly designed, aesthetically pleasing, ergonomically hip, and most importantly - double hulled to hold the cold better than any other ice bath in the business. Plus - you cannot beat their customer service. 5 Stars - a game changer for the industry!
Thank you so much for your fantastic feedback! Enjoy the game-changing benefits of The Viking! ❄️
Let's Go!
Great purchase, customer service has been outstanding! Product is solid and plunging definitely put extra pep in your step. No regrets.
Thank you for your wonderful review! We're glad to bring that extra pep to your step. No regrets, just happy plunging! ❄️
Best in the business
I am so happy i got this cold plunge!! I am a professional golfer on the pga tour and this helps my body recover. I look forward to getting in every morning when we are at home. I highly recommend this plunge. It's easy to use and doesn't take up a lot of space. You can't go wrong with getting this plunge!!
Thank you for your fantastic feedback! We're all about making wellness easy and effective, and we appreciate your support. Here's to many more refreshing plunges and successful rounds of golf! ️‍❄️